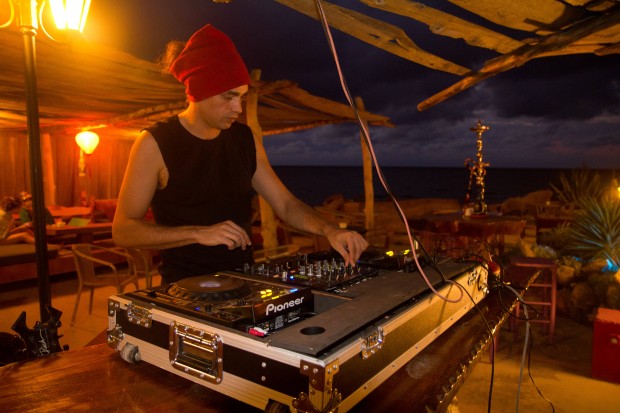 I have never written any articles about anyone in my life, however I have been lucky to meet Lennart back in 2010 and this has influenced me to try. I also had an opportunity to interview Lennart. I would like to thank Aurelio Fernandez with providing some information for this article.
Lennart Krarup, mainly known as Lenny Ibizarre is a musician, producer, DJ and a friendly, nice person in general.
Lenny Ibizarre has produced 12 albums and has become a multi-platinum selling artist. Lennart's Ibiza Chilled Compilations has sold of over 1,5 million copies in UK alone.
The success in his career is inversely proportional to the combination of talent, effort and consistency in a time in which to pursue music you had to be the best for miles and miles around. This might explain his precocity in handling electronic devices, his early passion for alternative music, passing through the University of Sussex and subsequent establishment in the Ibiza of the '90s to today. The marketing and the numerology are not the reasons why he is cataloged as a legend, as is the case of a lot of DJs and producers today, and it is the deep artistic connection with the environment of the purest musical creation.
Lennart was a co-creator with Jose Pascual of the DJ Awards, awards that came under his direction to establish itself as the international benchmark for the recognition of the music industry to the DJ.
Q: Who did you want to be when you grew up?
A: For as long as I can remember, I have always been what I wanted to be: a musician.
Q: Where and why did you start DJing?
A: I started to play records at parties and the island back in the early 90s. I never considered myself a disc jockey, but I was often asked to play, so I picked up the skills on the job.
Q: Can you remember the first time you DJied in Ibiza and tell us a little more about it?
A: The 1st time I performed on the island was at a trance party in Cova Santa. I remember that every single person working there had taken at least 2 hits of LSD before the doors had even opened. There was 4000 people and the cars blocked the road for miles cutting off all access between Ibiza and San Jose. The party was a huge success, then it was squashed by the higher powers…
Q: Where have you been performing last year and what venue did you like most?
A: For a sunset performance nothing beats Kumharas! I play there every Saturday with the live band, and I would seriously recommend it for anyone who likes to feel naturally good ☺
Q: What is the best track you have ever written and why?
A: I have written a lot of songs that I am very fond of, but generally I always feel that the last songs I wrote are the best, but I am also constantly confronted with what appears to be the gap between perfection and reality, and this forces me to write the next one.
Q: Which act or DJ have had the most influence on your career to date?
A: I have been inspired by many people, but only few of them come from electronic music. I have been influenced the classical masters, the early ambient experimentations, Japanese Koto playing, and Jimi Hendrix. Frank Zappa.
Q: Can modern day DJ's make it through without production?
A: Yes with tons of promotion, then something like a residency at a massively successful party in the capital city of the Western world. Doesn't sound too easy now, does it? 🙂 The DJs that became known as great DJs for their skill, were all created in the early era of electronic dance music, when the skill required to manipulate turntables at precision was only held by the select few who had put the time and effort into mastery. If you want success as a DJ in the world today, you have got to contribute to the spectrum through personal development as a producer and visionary.
Q: Does the industry these days dictate that artists need to be both creative artists and businessmen in equal measure?
A: Every industry and will eat its creative contributors if they are not prepared for a shark attack. Business is business, and few people can get through with their honour and integrity intact. But I can tell you one thing: the one who holds the creative source ultimately controls the supply. In other words, be the best and you can lay down the law. 😉
Q: Which record has been big for you last year?
A: Hmm. I barely remember last year, I think I didn't find something ultra special, but right now I am incredibly fond of Matrieks The Entity!
Q: What do you are the major issues affecting dance music culture today, if any? There has been uproar recently on an article regarding misogyny in dance music, for example. What kind of prejudices do you think persist on the dance floor, musical or otherwise?
A: Well I think it has become a bit of a sport. And I think the culture has moved on to the point where we need to call it something else. I am not exactly engaging, as I live like a recluse and my mountaintop in the northern hills of the island. I spent most of my day engaging in music, nature and technology
Q: What influenced you to create DJ Awards?
A: It is a natural consequence of every profession to eventually celebrate its merits in some formal ceremony. So there was a natural space for the awards to fill.
Q: What is your next project?
A: I am building a monster of a studio complex in my house. So most of my time is spent gently tweaking the technology to perfection. I am particularly fond of our new atomic clock, and its performance in audio conversion.
Q: Where will you perform this summer?
A: I think I will mostly focus on my gig every Saturday in Kumharas. The rest of the dates are mostly private parties.
Collaborations with Chris Mancini and the Henry Mancini Orchestra, Jose Padilla, Valentin Huedo, Dj Pippi, Bruno from Ibiza, Paco Fernandez and many more. He has remixed big names such as Bob Dylan, Bob Marley, Jefferson Airplane, Nat King Cole, ACDC, Pink Floyd and The Doors. Working with labels such as Virgin, BGM, Sony, Warner, Blau Motif or Defected Records in addition Lennart launched his own label "Ibizarre Records". Lennart's alias names can be found as G-Force, Green Grass, Ibizarre, Jester, King Kitch, Lennart Krarup, Maven or Mushroomman. His performances have taken place at festivals and clubs such as Pacha, Amnesia, Space, Ku (Privilege), Café del Mar, Khumaras and Republic of Kazantip, however this is just a list of few of them as there are too many to name.